Technology At Varun Eye Care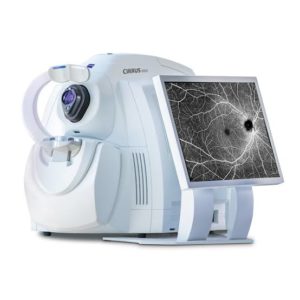 Zeiss
CIRRUS 500
CIRRUS HD-OCT 500 provides a great solution for comprehensive ophthalmic practices and offers essential OCT capabilities with a broad range of clinical applications in an easy-to-learn, easy-to-use instrument for the management of glaucoma and retinal disease, retina assessment for cataract surgery, and anterior segment imaging for corneal disease. The new OCT camera enables quick OCT fundus image refresh making patient alignment more efficient.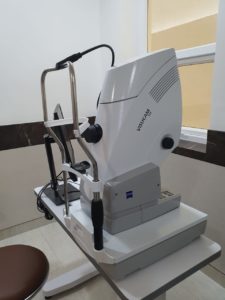 Zeiss
VISUCAM 524
The VISUCAM fundus camera with a 24-megapixel sensor produces brilliant, detail-rich images to effectively aid in diagnosing and monitoring a broad range of eye diseases – from glaucoma and diabetic retinopathy to dry AMD.
• Greater diagnostic insight – High-resolution fundus imaging
• Versatility – Fully-featured camera with all imaging modes
• Enhanced practice performance – Simple design, user friendly, full integration with clinic workflow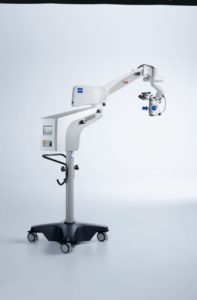 Zeiss
OPMI LUMERA I
The OPMI Lumera® i from ZEISS delivers high-quality visualization technology. The Stereo Coaxial Illumination (SCI) will make a difference in how well you see the details – for better decision making. See overlays of the assistance functions in the eyepiece with the External Data Injection System (EDIS).
• Visualization
• Centrally controlled
• Small and easy to move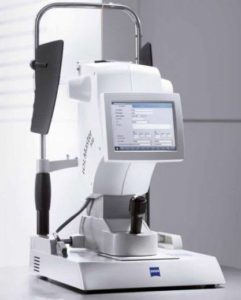 Zeiss
IOLMASTER 500
ZEISS IOLMaster 500 Trusting the experience of 100 million IOL power calculations
The IOLMaster® 500 from ZEISS is the gold standard in optical biometry, with more than 100 million successful IOL power calculations to date. The ZEISS IOLMaster 500 is a great choice for cataract surgeons looking for a reliable, fast and easy-to-use optical biometer for measurements they can depend on.
• Refractive outcomes you can trust
• Fast and easy to use
• Advanced measurement of challenging eyes
• Precise and efficient markerless toric IOL alignment
YAG Laser
It is useful in treating Posterior Capsular Opacification (after cataract), which is one of the most common causes of decrease in vision after routine cataract surgery. YAG laser posterior capsulotomy is an outpatient procedure that does not require anesthesia. The procedure is painless and is done in few minutes.
YAG laser iridotomy is performed as a preventative measure against, or as a treatment for, narrow-angle glaucoma. The purpose of the laser is to reduce the risk of sight loss. Vision can be affected quickly if the eye pressure rises very high.
ALCON
Constellation Vision System
It is the most advanced, the best and trusted worldwide Vitrectomy system for its precision, accuracy and efficiency for managing Tractional retinal detachment, Rhegmatogenous retinal detachment & various complex vitreoretinal cases.
Faster operating times, better surgical control and state-of-the-art technology equate to the safest vitrectomy surgery possible. Due to the improvements in safety, the spectrum of diseases available to surgical cures increases.
The safety of the 25,27 gauge vitrectomy is optimized by the Constellation Vision System making the vitreoretinal surgeries sutureless (Microincision Vitrectomy Surgery-MIVS), thereby increasing the patient's comfort and accelerated recovery.
B-Scan
Ultrasonography
This is a painless test that makes use of sound waves which bounce back from the interior of the eye to create a clear picture of the anatomy of the eye.
Ultrasound of the eye helps in evaluating posterior segment pathologies (Vitreous Hemorrhage, Retinoblastoma, Retinal detachment (Tractional, Rhegmatogenous), Intraocular foreign body, endophthalmitis), when fundus cannot be evaluated due to media opacities.
It is also helpful in prognosticating surgical outcomes in routine anterior segment cases like mature cataract, corneal opacities, etc.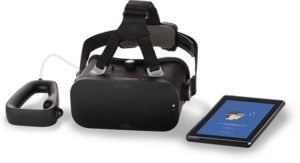 Time Saving & Portable Visual Field Analysis
PALMSCAN VF2000
Damage to the optic nerve limits the field of vision, but regular vision, i.e. the ability to read an ophthalmologist's eye chart, is affected at a much later stage. In its early stages, glaucoma can only be detected or monitored by using an automated perimetry test. A normal patient will have a 'full-field vision', while a person with glaucoma has black, non-seeing areas in the field of vision. We have a hand-held, battery-powered visual field analyzer (Perimeter) based on Virtual Reality technology, used for screening, diagnosis and studying the progression of glaucoma and helps in neuro-ophthalmological cases. It can also be done in pediatric patients, disabled/bed-ridden patients at their comfort and in lesser time. It gives highly sensitive, reproducible and reliable results.