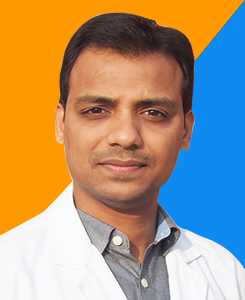 Dr. Rajan Gupta
MS, FLVPEI, FVRS
Retina and Uvea Specialist
• Co-Founder and Consulting Vitreo-Retinal Surgeon & Uvea Specialist.
• Ex Long Term Vitreo-Retina & Uvea Fellow, L.V. Prasad Eye Institute, Hyderabad.
• Ex Vitreo-Retina & Uvea Consultant, L.V. Prasad Eye Institute, Hyderabad.
Medical & Surgical Experience:
---
• Well versed and experienced in managing the medical retinal disorders like diabetic retinopathy, age related macular degeneration, retinal vascular disorders like venous occlusion and choroidal pathologies.
• Expertise in choice and application of available intravitreal anti vascular endothelial growth factors (Anti VEGF) – Avastin / Accentrix / Eylea / Razumab / Macugen, as indicated for different pathologies.
• Qualified and skilled to perform different retinal lasers like pan retinal photocoagulation (PRP), focal laser, sectoral laser and barrage laser.
• Experience of performing more than 500 vitrectomies (including both adult and pediatric age group).
• Well competent in vitreo retinal surgeries indicated for macular hole, rhegmatogenous retinal detachment, tractional retinal detachment, scleral buckling as indicated in detachments.
• Experience of managing open globe injuries including scleral tear repair, intraocular foreign body removal and traumatic retinal detachments.
• Well versed with techniques of scleral fixated IOL / Glued IOL / Secondary IOL in cases of nucleus or IOL dislocation and correcting surgical aphakia.
• Skilled and trained for treatment (Laser / Anti-VEGF) of retinopathy of prematurity in new borns (ROP)
Research-Academic Experience:
---
1. Gupta R, Fung AT, Lupidi M, Pappuru RR, Nayak S, Sahoo NK, Kaliki S, Yannuzzi L, Reid K, Lim L, SacconiR, Dave V, Singh SR, Ayachit A, Gabrielle PH, Cai S,Lima LH, Querques G, Arevalo JF, Freund KB, Shields CL, ChhablaniJ.Peripapillary Versus Macular Combined Hamartoma of the Retina and Retinal Pigment Epithelium: Imaging Characteristics. Am J Ophthalmol. 2019 Apr;200:263-269.
2. Gupta R, Pappuru RR, Fung KAT, Lupidi M, Kaliki S, Yannuzzi L, Freund KB, Reid K, Zur D, Iglicki M, Chhablani J. Filigree Vascular Pattern in Combined Hamartomaof Retina and Retinal Pigment Epithelium on OCT Angiography. Ophthalmol Retina.2019 Oct;3(10):879-887.
3. Gupta R, Pappuru RR, Dave VP, Chhablani J. Choroidal neovascularizationassociated with combined hamartoma of retina and retinal pigment epithelium:Multimodal imaging. Indian J Ophthalmol. 2018 Dec;66(12):1866-1868.
4. Gupta R, Tyagi M, Balakrishnan D, Rani PK. Acute retinal necrosis (ARN)following chickenpox in a patient of Vogt-Koyanagi-Harada (VKH) syndrome using immunosuppressants. BMJ Case Rep. 2018 Nov 28;11(1).
5. Gupta R, Chhablani J. Flat irregular pigment epithelium detachment in central serouschorioretinopathy: Correlation with choroidal neovascular membrane. IndianJ Ophthalmol. 2019 Aug;67(8):1330-1332.
6. Gupta R, Chhablani J.Differential flow signal strength of choroidal neovascular membrane on optical coherence tomography angiography in central serous chorioretinopathy" – Accepted for publication in BMJ Case reports in November 2019
7. Gupta R, Chhablani J. Tackling challenges retina cases with laser therapy. (2018). Retina Today 2018 Vol. 13, No 8 (page 24).
8. Aspergillus endophthalmitis : Clinical presentations and factors determining outcomesRajeev R Pappuru; Vivek Dave; AvinashPathengay; Savitri Sharma; Joveeta Joseph Ruben; Rajan Gupta; Sai Bhakti Shukla; Taraprasad DasInvestigative Ophthalmology & Visual Science July 2019, Vol.60, 2031